Vetafarm Australia
Regular price
Rs.8,000.00
Regular price
Sale price
Rs.8,000.00
Unit price
per
Sale
Sold out
Neocare Hand Rearing Food
Hand Rearing Food for Baby Birds
Formulated for optimal health and growth in your chicks
Ideal from day one
Fully extruded food for maximum absorption
Premium extruded hand rearing formula.
Recommended for: All Parrots as a complete hand rearing formula. Suitable for use from hatching through to weaning.
Can use with: Neocare should not be used with any other supplement, unless advised by a veterinarian. Neocare is a veterinary balanced food, mixing other foods or supplements will dilute the nutrition and unbalance a young birds diet. If hand feeding from hatching, an electrolyte formula should be fed for the first 24+ hrs or until the bird passes its first dropping. Neocare is then fed at a runny consistency and thickened over a period of days.
Key features: Extrusion cooked for safety and increased digestibility. Contains Probotic to promote healthy gut flora. Contains Pre-digestives to increase gut efficiency and ensure maximum absorption of nutrients. Scientifically balanced to ensure precise nutrition in baby birds. Contains all necessary vitamins, mineral, calcium and amino acids for growing bones, organ function and strong feather development
Directions
Follow the below directions carefully if you are to have success with your hand reared babies.

Starting your baby on Neocare or Hand Rearing
Food: For best results always start with a very runny mix. Add 2 small level scoops (scoop enclosed in packet) of formula to a jar or cup, then add one large scoop and one small scoop of boiling water. Mix thoroughly using a fork for 30 seconds or until an even consistency is achieved (like gritty milk). Check temperature and feed. The above mix then needs to be gradually thickened over a 48 hour period, at which point the below regular mixing directions are to be used until the bird is weaned.

Mixing Regular Formula: Add one large level scoop of formula to a jar or cup, then add one large scoop of boiling water. Mix thoroughly using a fork for 30 seconds until a thick and consistent paste is formed.
Add a further 3 small scoops of cool water and mix for a further 2 minutes or until an even consistency is achieved. Check temperature and feed.

Food Temperature: The temperature of food fed to babies (irrespective of age) should be between 36-38ºC. Temps hotter than 43ºC will begin to burn the crop, lower than 34ºC will cause problems with digestion. It is important that you DO NOT use a microwave to heat the formula.

Feeding Frequency and Amount: The age and species of birds being raised affects the amount and frequency of feeds. Be sure to research the requirements of your individual birds thoroughly before you begin.
As a rule, the last feed of the day should be late at night around 10-11pm and the next feed early the following morning at approximately 5-6am. It is important to note that at the first feed of the day the crop should be completely empty. The crop should be allowed to empty completely once every 24hrs.

Fresh Formula: Fresh batches of Neocare or Hand Rearing Food must be mixed each feed. DO NOT store or refrigerate any pre-mixed formula for later use.

IMPORTANT – Hand Raising babies is a very complex task, particularly when dealing with Neonates or "day olds".

Vetafarm provide FREE information resources on all the crucial points on hand raising, whether for Neonates or older babies. Please be sure to contact us by phone or email for a free information sheet or check out our informative clips online BEFORE you start hand raising your valued babies.
Nutrition
Active Constituents: 6mg/g Probotic®
180 Million CFU/g as Lactobacillus acidophilus; L. delbrueckii subspecies bulgaricus. L. plantarum; L. rhamnosus;
Bifidobacterium bifidum; Enterococcus faecium; Streptococcus salivarius subspecies thermophilus.
Ingredients:
Whole grains: corn, wheat & soybean.
Vegetable oils and Natural organic acids.
Amino acids lysine and methionine.
Vitamins: A, B1, B2, B3, B5, B6, B9, B12, C, D3, E, H & K.
Minerals: calcium, cobalt, copper, iodine, iron, magnesium, manganese, phosphorus, potassium, selenium, sodium, sulphur & zinc.
Guaranteed Analysis:
Min Crude Protein 21.0%
Min Crude Fat 15.0%
Max Fibre 4.0%
Max Salt 0.5%
Min Calcium 1.0%
Weight: 450grm
Share
View full details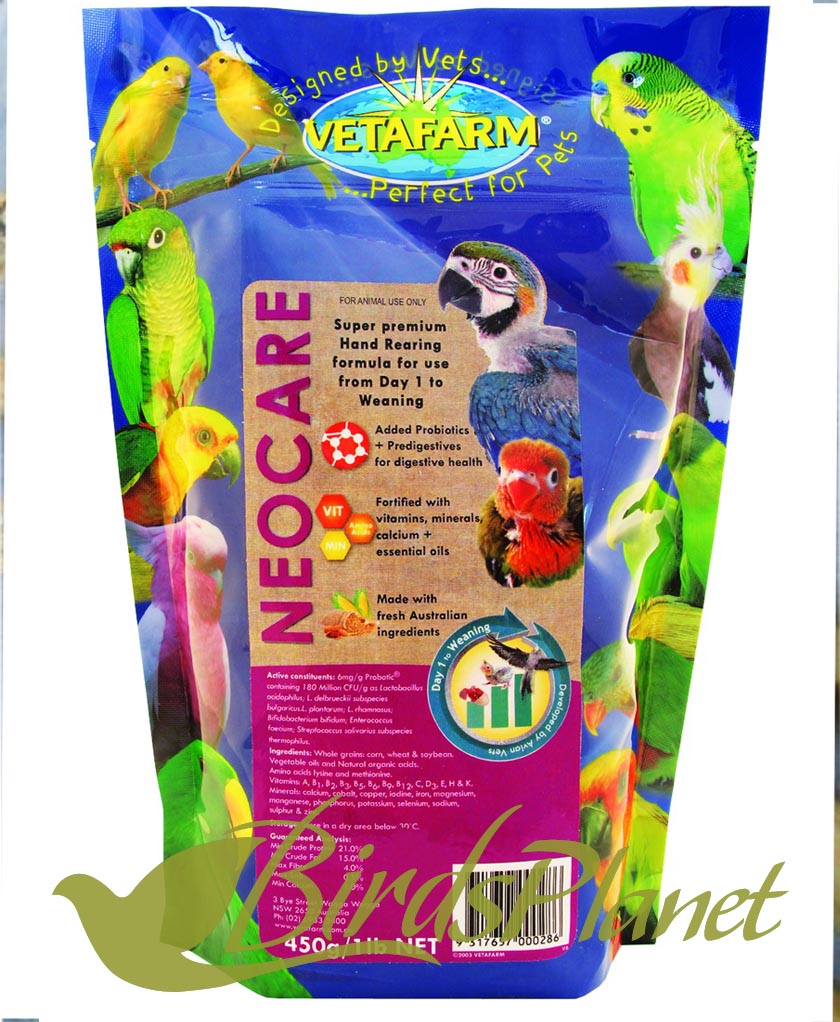 Collapsible content
Shop from our Physical Store

BirdsPlanet (Pet store)

16-C,  Abul Hassan Isfahani Road, Near Mobilink Franchise, Faisal Town  Lahore.

Call/ Whatsapp 03351419323, 03008874039, 03111222845

Landline: 042-35160016

Our Timing

Monday to Saturday: 10am to 9pm

Share information about your brand with your customers. Describe a product, make announcements, or welcome customers to your store.